Building a keyboard from scratch
published: by Maarten Tromp, updated: .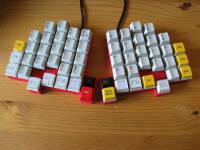 This is the story of me building a computer keyboard over the course of a couple of years. It covers every step from idea to design to built, from electronics to mechanics to firmware to key layouts and from hits to misses. The result is a unique keyboard and a long story to tell.