This article describes how I transformed my old car radio into a detachable front for my new car radio.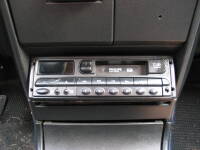 When I bought my car, it came with a radio. It was a very plain, old one with cassette tapes. Also, it was broken.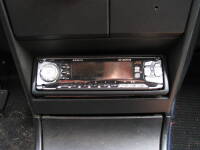 Luckily I had another radio lying around. Most of it still worked, and it was even capable of playing CDs. The only disadvantage is the flashy look of the front, and the fact that the detachabe front won't come off any more. Unfortunately where I live that very property is vital to keep your radio in your possession. So I need some way to make my new radio look dull and uninteresting to potential new owners, just like the radio that came with the car did.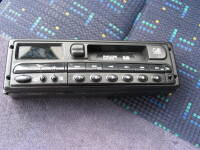 What would be a better way to look like an old radio than actually showing an old radio front? Since the original radio was broken anyway, I decided to cut off the front, and transform it into an detachable fake front for the new radio.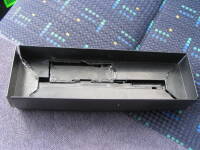 Now that the back is level, I glued some angle profile on the back. It has the same colour as the plastic front and fits snugly over the front of my new radio.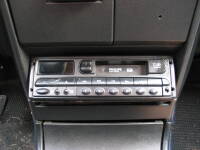 This is the result. It looks exactly like it did before I started. (Actually, it's the same picture since I lost the picture of the original radio from before I started cutting.) Lots of people look surprised when I take off the front to show another radio.