The circular saw I had bought, didn't come with a case. And at the start of 2008 I was looking for a simple project and building a case for this saw seemed just right.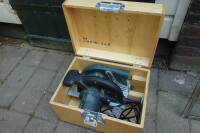 The case is designed to fit snugly around the circular saw and be as compact as possible, even though the saw has handles and bits sticking out on every side. The enclosure is made from 12mm birch plywood, maybe a bit overkill for this case, but beautiful to look at and really sturdy. To not spoil the looks with screws, all joints are glued. This was an experiment for me but the case proved strong enough to stand on.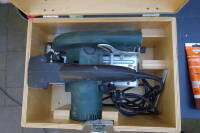 Below the saw are three supports. Two L-shaped pieces, one on each side of the saw blade, and one U-shaped piece supporting the motor. There is some space left for the power cord and a ruler. The remaining parts, butterfly lock, handle, hinges and rubber feet, are actually flight case parts. These were more sturdy and elegant than what was available at the local hardware store. These bits were riveted on, to complete the flightcase-look. One thing I particularly like is the handle on top is mounted right over centre of gravity, which differs from the geometric centre.
The case is in use for over a decade now, but looks hardly worn. Only the metal parts have oxidized a bit from sitting in the shed.